1. CHECK IN
Where can I check in?
Below is a map of the Lake Hill Resort & SPA and Lake Hill Apartments complexes. The main reception is located in our hotel. This is where you check in and receive all the most important information about your room and stay, and you will be able to settle payments.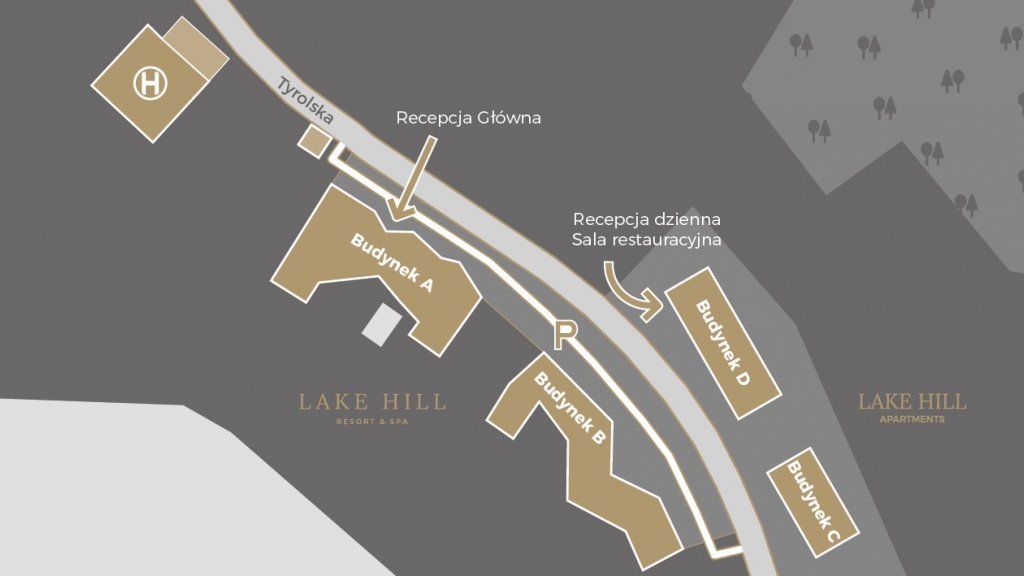 From what time can you check in? Can I come earlier?
Check-in is possible from 15:00. Early check-in is subject to apartment availability.
Before arriving earlier, please send an inquiry to the following address: rezerw@lakehill.pl or call 724 888 800.
What do I have to prepare to check in at the Apartments?
Only the first name, surname and possibly the reservation number are required for check-in.
2. RESTAURANT AND MEALS
How is breakfast served?
Breakfasts are served as a buffet in the restaurant room in building D on the ground floor.
Where and when can i pick up my breakfast?
During the week, breakfasts are served from 8:00 to 10:00.
On Saturdays and Sundays, breakfasts are served from 7:30 to 9:00 for guests from building D, while from 9:00 to 10:30 we invite guests from building C.
Can I buy dinners on site?
It is best to report dinner when making the reservation. However, if you decide only after arrival, you can sign up for a dinner at the Daily Reception, which we will prepare for you the next day.
The cost of a dinner is PLN 90 / person. adult, 45 PLN child (5-12 years old), children up to 4 years of age receive a dinner for free.
How will I know which menu is for dinner?
Each apartment has a dinner menu and a Snack Bar menu with prices that can be ordered in the restaurant room.
Where can you pick up a dinner?
Currently, we serve dinners in the form of a buffet in the restaurant room in building D.
During the week, we invite you between 18:00 and 19:00, and on Fridays and Saturdays, dinners are issued between 17:00 and 19:00.
I am hungry or thirsty, and I have not signed up for half-board. Where can I order something else?
The Lobby Bar in the hotel in building A is open from 11:00, where you can order drinks. After 1 p.m. our Lobby Bar menu starts and you can order it to go.
My child is hungry, can I order an additional dinner?
No problem! Order an additional dinner for a child up to 4 years of age from the waiter - we will prepare it especially for you. The cost of a dinner for a child is 15 PLN.
I am a vegetarian, have a food allergy or follow a special diet - is there a chance to prepare a separate menu?
All information related to food allergies or other food preferences must be provided upon check-in. We will then be able to record your request and prepare meals as requested.
Can I pay for the order on the spot?
Payment is made when placing the order. We accept card and cash payments.
3. WELLNESS ZONE
Can I use the wellness area?
The wellness area is not available to guests of Lake Hill Apartments.
4. APARTMENT SERVICE
Can I order an apartment cleaning?
In the apartments, cleaning service is available only on request of the Guest. The cost of the service is PLN 123.
Where should I report the apartment service?
The service should be reported at the Lake Hill Apartments Day Reception or the Lake Hill Resort & SPA Main Reception by no later than 2 p.m.

5. CHECK OUT
Until what time can you check out of the apartments? Can I stay with you longer?
Check-out is by 11:00. Take advantage of the quick check-out option and leave your apartment cards in the box next to the day reception. Extension of the check-out time is additionally payable at the Main Reception. Ask at the Reception for a later check-out.
Where can I settle my stay? Is there a quick checkout option?
The entire stay should be settled upon check-in at the main reception desk. Take advantage of the quick check-out option and leave your apartment cards in the box next to the day reception.

6. ADDITIONAL INFORMATION
I have a question regarding my stay. Where can I apply?
Lake Hill Apartments Day Reception is open on Saturdays and Sundays from 07:00 to 19:00. During the week and after 7 p.m., please contact the Main Reception, located in building A.
Can you rent sport equipment?
Oxygene sport equipment rental in the Lake Hill Resort & SPA building.
Phone: 516 800 556
Where can skis and other sports equipment be stored?
The marked ski room is located on the ground floor in building C and D.
I would like to relax during my stay, can I use the SPA?
Make an appointment for treatments individually. Please book your treatments in advance to choose the most convenient date for you.
La Perla Clinic
Phone: 784 066 275
mail: lakehill@la-perla.pl
I'm here for the first time and I'd like to get to know the area better, where should I start?
Ask at the Day Reception Desk for a map of the area where you will find the closest attractions.
Additional attractions:
Off-Road by off-road vehicles,
Thematic tours with a local guide,
Singletrack bike routes,
Walking routes around the Sosnówka Lagoon.
Detailed information will be provided by the Day Reception Desk or the Marketing Department at 724-888-811.
WiFi:
User - lake
Password - hill
Internal numbers:
Reception: 3333
Restaurant: 3334